Featured Master-Instructor
Andrea Ruth Walker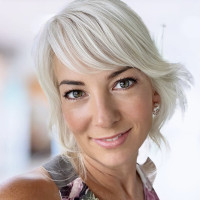 About
Spiritual Coach Andrea Ruth Walker N.D. assists overachievers to avoid or break free from burn-out by helping them reconnect to their passions so they can live a balanced life.

Andrea has over 30 years of experience professionally working as a Healer, Facilitator and Teacher. She has treatments and classes in many different modalities creating an ability to interact with all different cultures, faiths, religions and non-religious clients.

Her unique blend of interactive exercises assist in quickly finding limiting blockages, unlock pain and stuck negative emotions stored in your body. Creating a safe space for the healing and regenerating needed to improve and change the quality of your present life and future.

Andrea's background of over 30 years as an International Trainer, Educator and Speaker, makes her classes and seminars very dynamic and engaging.

Andrea's background in Corporate Development led her to many cycles of Burn-out and recovery. Her passion for Spirituality and learning from diverse Cultural Groups brought her to a career change that reflects a life / work balance in line with her desired Life. She moved to the Dominican Republic where she hosts Classes. personalised Private and Small Group U-Retreats, Private sessions and group Meditations online or in person.
Services
Integrated Energy Therapy Treatments
60 minutes 100$ / 90 minutes 150$

Theta Healing Session
60 minutes 100$ / 90 minutes 150$

Spiritual Coaching
60 minutes 100$ / 90 minutes 150$

Access Bars
60 minutes 100$ / 90 minutes 150$

Access Facelift
60 minutes 100$ / 90 minutes 150$
Classes
IET Basic, Intermediate, Advanced
IET for Pets
Healing Angels
Steps to Transformation
IET for Kids

This instructor has no classes scheduled at this time.