Class Name: Master-Instructor
Location: Valley Cottage, NY
The Wholeness Center
7 New Lake Road
Valley Cottage, NY, USA
917-679-2854
Class Description
In this Master Instructor Class you will perfect, enhance and increase the vibration of your practitioner skills. You will learn the sacred geometry, skills and techniques necessary to become an IET Teacher. You will dare to claim and live the life of your dreams! You will come into vibrational resonance with your dreams through clearing your channels to manifestation with IET Sacred Geometry using new, very powerful techniques including the blessing bowl technique, power bursts, I-Ching, amplifying the energy and more.
You will learn the attunements/sacred geometry for and how to teach the IET Basic, Intermediate, Advanced. You will be certified to teach Basic, Intermediate, Advanced, Pets, Children, The Healing Angels Class and more! You will receive a Master-Instructor Attunement as well as give receive many attunements and practice the many enhanced and new techniques.

Date: November,5
Time: 9:30 am to 6:00 pm
Instructor: Denise Becker-MI Trainer
Location Description: Location is 1.4 miles (4 minutes) from Cuomo Bridge Bridge. Beautiful, spacious room located within larger spa. Minutes from the quaint town of Nyack, NY which has many shops, restaurants and several places stay. Also minutes from Rockland Lake State Park. Parking on site
Student Price: 785.
Student Early Bird Price: 735 If Registered By: 10/14/2023
Deposit: $350.
Reviewers Price: 385.
Reviewers Early Bird Price: 365 If Registered By: 10/15/2023
Reviewers Deposit: $150.
Lunch Description: There is a refrigerator if you wish to bring your lunch. There are several restaurants within walking distance including Mexican, Chinese and a luncheonette.
Maximum Number of Students: 8
Maximum Number of Reviewers: 2

Contact Details
Phone:
917-679-2854
Email:
denisejoyb44@gmail.com
Website:
http://embracinginnerpeace.com
---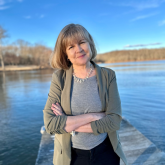 About Denise Becker
Denise Becker MA OTR/L is an Integrated Energy Therapy Master Instructor Trainer, Certified Yoga Teacher, Reiki practitioner and Tapping Facilitator. Denise has an undergraduate degree in psychology and a master's degree in occupational therapy. Denise was introduced to the IET® over 25 years ago when it was a very small developing community. Denise had the pleasure and privilege of receiving sessions and all trainings including becoming a Trainer from Stephen Thayer, the developer of IET®. Since becoming a Master Instructor in 1999, she has taught a tremendous number of classes and treated countless individuals. Initially, she maintained a full time pediatric occupational therapy practice. She now focuses solely on her IET practice and classes. It is Denise's personal and professional passion to assist others in becoming the best they can be, which includes freedom through healing from the physical, emotional, and mental pain embedded in their subconscious. It is her joy to help enable others to function with mastery and joy as they move forward in their lives.