Location: Midleton, Co. Cork
Midleton Park Hotel
Old Cork Road, Co. Cork
Midleton
Co. Cork, Co. Cork, Ireland
+353 86 8347729
Class Description
In the Basic IET level training, you will be attuned to the Angelic Violet Ray.
You will learn the Integration points, hand positions and you will give and receive an IET(R) treatment! You will receive an illustrated manual by the Center of Being Inc. and a certificate at the end of the day.
Date: April 15, 2023
Time: 9:45am
Instructor: Gretta Murphy
Location Description: Midleton Park Hotel is situated in the Old Cork Road, Midleton, Co. Cork. Tel. +353 21 4635100
Student Price: 175
Deposit: €70
Reviewers Price: €100
Reviewers Early Bird Price: €100
Lunch Description: Lunch, not included in the fee, at the hotel or in a local restaurant.
Maximum Number of Students: 8
Maximum Number of Reviewers: 4

Contact Details
Phone:
+353 86 8347729
Email:
alchemygretta@gmail.com
Website:
http://www.alchemygretta.com
---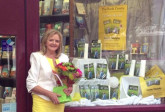 About Gretta Murphy
Gretta trained with the Stevan Thayer at the Center of Being Inc. Woodstock, N.Y. in October 1999. Stevan is the Founder of Integrated Energy Therapy(R). Gretta has since taught all levels of IET(r) throughout Ireland, Europe and from West to East Australia. Gretta has trained in many other therapies e.g. Magnified Healing (R), Reflexology, Ki Massage, Access Bars, EFT. It is IET(R), however, that works miracles in her life! Gretta's book "I Chose My Life!" was published in 2014 - has been requested in many Countries.