Class Name: Intensive (Basic & Int & Adv)
Location: Fairport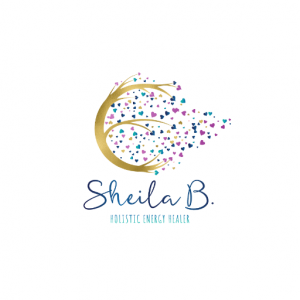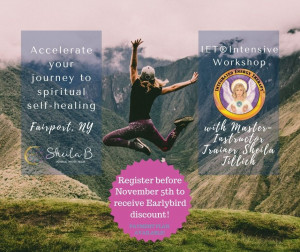 Sheila B Holistic Energy Healer
108 E Church St. #2
Fairport, NY, USA
585-313-3996
Class Description
It's time to stand in your own Magnificence life purpose journey!

You can do this by learning all 3 levels of IET. Join Master-Instructor Trainer Sheila Tillich for a 3-day IET® Intensive Workshop. This is a great way to learn all three levels of Integrated Energy therapy in a quick time frame. Whether it is for your own self-healing journey or adding it to your other healing modalities, this workshop will help you live your magnificence!

This Intensive Working you will learn about activating five pairs of DNA, healing yourself and others, empowerment, and practice.

Friday, November 19th - Day 1 Basic IET® 5-10 pm
Get the issues out of your tissues for good!

Saturday, November 20th - Day 2 Intermediate IET® 10-6 pm
Clear your limiting thinking and karmic habitual patterns.

Sunday, November 21st - Day 3 Advanced IET® 10-6 pm
Live aligned with your soul's passion and purpose in immense joy and manifest your dreams now!

After completing these 3 levels of IET, you then will be eligible to complete the IET Master-Instructor level. There will be a Master-Instructor scheduled for early 2022. I hope to see you there too!
Date: November 19 - 21, 2021
Time: Friday 5pm - 10pm, Sat 10am - 6pm, Sun 10am - 6pm
Instructor: Sheila Tillich
Location Description: Class is located at a private residence in the beautiful village of Fairport, NY. The address will be given at registration.
Student Price: $888
Student Early Bird Price: $800 If Registered By: 11/05/2021
Deposit: none
Reviewers Price: $333 w/wb
Reviewers Early Bird Price: none If Registered By: 11/05/2021
Reviewers Deposit: none
Lunch Description: There will be a lunch break for both days and students are responsible for their own lunches. There are restaurants nearby.
Maximum Number of Students: 6
Maximum Number of Reviewers: 2
Notes: Intensive (B/I/A) Reviewing students who need new workbooks their reviewer price is $405. Pricing is paid in full before registration on August 18, 2021. Upon registration at checkout, there will be a listing for Early Bird prices and reviewing students with or without workbooks.
Contact Details
Phone:
585-313-3996
Email:
sheila@sheilatillich.com
Website:
https://www.sheilatillich.com
---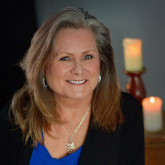 About Sheila Tillich
Reverend Sheila B is a Universal Master Healer. Her mission and passion are to teach self-healing techniques empowering others to transform past traumas and experiences into valuable learning insights to help create a life full of love, joy, and alignment. She is a Meta-Physician helping you shape your life's perspective through exciting esoteric reality. She is a certified IET Master Instructor Trainer, Certified Unity Field Healing Practitioner, Ordained Metaphysical Minister and Metaphysical Practitioner, Licensed HeartMath® Coach/Mentor, Master USUI Reiki Practitioner, Certified Hospice/Palliative Caregiver, and Global Authorized Host for Lemurian Sisterhood Sacred Circles. Sheila is an educator and trainer in energy practices and energy psychology teaching – changing conscious belief systems into empowerment living!