Class Name: IET Angelic Gathering
Location: ONLINE VIA ZOOM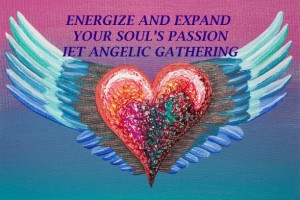 ONLINE VIA ZOOM, NY
845-657-7220
Class Description
Come together with IET Master-Instructors to ENERGIZE and EXPAND Your Soul's Passion!!

Energize your Energy Field with Barbara Stepniak
Experience an expanded I-CHI Ascension process
WAG 5-minute Empowerment
Re-activate the Step to Transformation processes

Freedom Process with Emond Carroll
Learn ways we give up our freedom
Cut energy cords
Embrace a be-do-gratitude way of life.

Compassion Processwith Maria Kramer
Activate your heart seeds
Experience an angel wash
Activate the right brain
Learn to move inter-dimensionally from the "Dimension of Fear" into the "Dimension of Love".

Experience the all NEW Soulstar Passion Process created by Keith Horwitz
Differentiate between an egoic want, and your Soul's emergent desires and passions.
Experience a heart wave between your Soulstar, heart & earthstar to amplify the awareness of your passion.
Embrace the wisdom and energy to accept your Soul's desires into your experience with joy.
---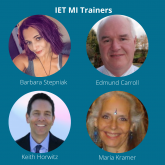 About Barbara Stepniak
Barbara is the Managing Director of the Center of Being, a certified IET® Master-Instructor Trainer, Life Coach, Guided Imagery Coach, MBF Coach, Holistic Wellness Coach, Reiki Practitioner, IET Practitioner. Edmond is a certified IET Master Instructor Trainer and is located in Athboy, Co. Meath, Ireland. He is a Certified Fetac Level 6 Life Coach and Certified "Train the Trainer" Graduate. He is a Certified Goal Mapping Practitioner. Maria is the founding Director of The Empowered Heart Center in FL, USA. Maria became an IET Master-Instructor in 2003 and has been a Certified IET Master-Instructor Trainer since 2012. She is an ordained Interfaith Minister, Transformational Catalyst, Inspirational Speaker, and Author. She facilitates private sessions, Angel classes, Self-Ascension events, Meditation, Empowerment workshops in person, via Skype and Tele~conference. Keith is a certified IET Master Instructor Trainer and has been an IET Master-Instructor since 2002, and a top teacher for many years. He is both a Practitioner and Instructor, located in Sherman Oaks, CA. He is the co-creator of Aum & Garden, a metaphysical store which sells gifts and books, as well as hosting spiritual events and serving as a resource for the community.