Featured Master-Instructor
Gretta Murphy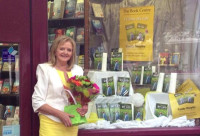 About
Gretta became the first IET Practitioner & Master-Instructor in Ireland in 1999. She trained in the Master Instructor level with Stevan Thayer in Woodstock, N.Y. October 1999, From January 2000, she taught IET throughout Ireland, Europe and from Perth W.A. to Byron Bay, NSW, Australia. Gretta became a Trainer in 2015 and began teaching the IET Master-Instructor level in Ireland and N.S.W., Australia 2016.
Gretta has received the Top IET Teacher Award since 2003.
Gretta is also a teacher of Magnified Healing Levels 1 & 3, a Practitioner of Reflexology, Bio Energy, Reiki, Rahanni Celestial Healing, EFT and Access Bars.

It is IET however, that works miraculously in Gretta's life.

Gretta is the author of her autobiography "I Chose My Life!"
Message from Angel Ariel, Channeled by Stevan J. Thayer:
"This book is not only a testimony to Gretta's personal transformation through difficulty, but also serves as an inspiration that can help those who are faced with adversity, transform their lives as well. "
Gretta is living in Tramore, Co. Waterford where she teaches all IET classes. She also teaches B.I.A. & Master-Instructor classes in Midleton, Co. Cork.

Services
Gretta's mission is to provide a safe, gentle and loving space to listen, guide and share channelled healing energy from the Angelic Realm, at a cellular level, without you having to experience or feel the pain again.
Classes
Gretta: 2023: All Training
.

Date/Time

Class

Location

Fee

Contact

October 07, 2023
9:45 AM - 5:30 PM

Master-Instructor
Part 1

Tramore,Waterford
Co. Waterford
Ireland

€695

October 08, 2023
9:30 AM - 5:30 PM (GMT)

Master-Instructor
Part 2

Tramore, Waterford
Co. Waterford
Ireland

€695

October 14, 2023
9:45 AM - 5:30 PM (GMT)

Basic
Entire Class

Tramore,Waterford
Co. Waterford
Ireland

€175

October 15, 2023
9:45 AM - 5:30 PM (GMT)

Intermediate
Entire Class

Tramore
Co. Waterford
Ireland

€180

October 16, 2023
9:45 AM - 5:45 PM (GMT)

Advanced
Entire Class

Tramore
Co. Waterford
Ireland

€180

November 04, 2023
9:45 AM - 5:30 PM (GMT)

Master-Instructor
Part 1

Tramore, Waterford
Co. Waterford
Ireland

€695

November 05, 2023
9:45 AM - 5:45 PM (GMT)

Master-Instructor
Part 2

Tramore, Waterford
Co. Waterford
Ireland