Featured Master-Instructor
Rev. Dr. Kameena Dawkins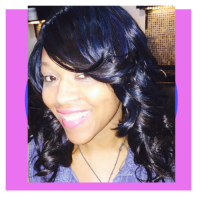 About
Love and Light! I am an Autism Mom, Spiritpreneur and the Author of the forthcoming book, "Black & Blue: The Inside Job to Healing in Autism Through Self Care. I've been an IET Master Instructor & Practitioner for 4 years and I absolutely LOVE the gentleness of IET. My friends & family call me 'Meme' since I have an Identical Twin Sister who is an IET Healer as well. My intention as a Caregiver and Healer is to hold space for the Self-Care of others- to illuminate the Divinity within themselves. IET is my primary modality and I use it all over the World. This November 11/11/2020, I will be gathering my tribe for my third Spiritual Healing Travel Retreat to host life-changing vortex sessions next to the Pyramids of Giza in Egypt.
Services
Currently, I'm available for private sessions both in-person and online as remote healing sessions through FaceTime. Additionally, I will also be offering the "Steps to Transformation Level 1-7" classes that are designed to create an environment of joy-filled energetic expansion and personal transformation. It is a joy to provide a safe and private space to heal and have fun! All beautiful souls are welcome to my sessions and classes including individuals with special needs like Autism. I accept many different forms of payment and I'm excited to have the opportunity to serve you, Thank you!
Classes
There are no prerequisites for these classes where you will learn to use ancient sacred geometry, combined with special techniques in 1.5 to 2 hours per Step, when taught over several days, or a two-day class 15 hour workshop.
This instructor has no classes scheduled at this time.