Featured Master-Instructor
Abi Beri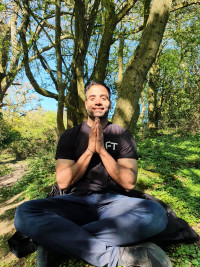 Blissful Evolution

Dublin, Co. Dublin, Ireland
Phone: +353 833569588
Email: info@blissfulevolution.com
Website: https://blissfulevolution.com/
Facebook: https://www.facebook.com/evolutionblissful
About
Hi, I'm Abi. I am qualified Holistic therapist and Card Reader .My personal journey in life has led me on the path of spiritual development. I have been sensitive to energy from a very young age and have always been drawn to learning more about how it operates in our lives. I used to suffer from chronic anxiety, panic attacks, sleep issues and other addictions during my younger years and have personally seen the power of this work in my own healing journey.

I firmly believe that any imbalance an issue we are facing, mental or physical or emotional is linked to an imbalance in our energy field which can be worked on to restore health and vitality in the system.

I am trained in Integrated energy therapy(IET), Bio energy therapy,Reiki, Angelic Energy Healing, Rahanni Celestial Healing,Family constellations, Consciousness medicine, Emotional freedom technique (EFT),Tarot and other healing modalities.

I also teach energy healing, angelic healing and tarot courses.

My job as a holistic therapist is to be an open channel allowing life force energy to flow through me and work for the client's highest good using a range of energy healing tools.

I feel blessed and chosen by the Divine and angels to be on this path. I look forward to working with you.

To book an appointment, visit www.blissfulevolution.com or email info@blissfulevolution.com

NAMASTE !
Services
• Bio Energy Therapy
• Integrated Energy Therapy (1:1 sessions and trainings)
• Rahaani Celestial Healing (1:1 sessions and trainings)
• Access Bars Therapy
• Tarot Consultations
• Angel Card Readings
• Angelic Energy Healing
• Chakra Balancing
• Family Constellation Therapy


Classes
Healing Angels Workshop
Integrated Energy Therapy (Basic Level)
Integrated Energy Therapy (Intermediate Level)
Integrated Energy Therapy (Advanced Level)
Rahanni Celestial Healing (Practitioner Level)
Rahanni Celestial Healing (Teachers Level)
This instructor has no classes scheduled at this time.