Featured Master-Instructor
Julia Lungin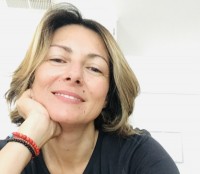 Insource Yourself
Sherman Oaks, CA, USA
Phone: 8189190808
Email: vedicjules@gmail.com
About
Julia Lungin, AMP is an Ayurvedic Medicine Practitioner and Master Integrated Energy Therapy (IET) instructor and practitioner. Her journey to being a practitioner and lover of the art and science of Ayurveda began 17 years ago when she was pregnant with her second daughter and discovered a book on Ayurveda at the Bodhi Tree bookstore in Los Angeles. She read the book cover to cover in 2 days and her mind was blown. What she read and understood made sense down to her bones. After giving birth, she began her studies at The American University of Complementary Medicine (AUCM) which culminated in a Ayurvedic Medicine Practitioner certificate. Julia is also a Reiki Master, certified in the unique Natural Facelift Massage technique as well as in training for being a certified Vedic Counselor and breath work guide. Julia has led several Ayurvedic Panchakarma retreats and was the founder of an Ayurvedic chocolate company called Chocoveda. Her goal is to leave you feeling loved, nurtured, and nourished. She works with the intention of inspiring you with a wider understanding of yourself and why you are here. Julia wants to remind her clients that they are valuable and worthy of the highest care and attention to themselves.
Services
(1) IET Sessions

(2) PACKAGES:
*Meditation - Eight 60 min sessions
Work with me in person or via Zoom to open yourself up to the world of meditation. I incorporate various meditation techniques tailored to your needs. Learn how to ground yourself in your body, become more present to life moment by moment, and increase your capacity to manifest your heart's desires.

*Ayurvedic Experience
Includes:
1 Consultation -1.5 hr
1 Cooking and Nutrition class (we will make Kitchari and ghee) - 2 hours
3 Ayurvedic Treatments tailored to your specific wants/needs - 75 min
Ayurveda is a 5000+ year old living science and art of life. It's nurturing approach to bringing your body, mind, and spirit into balance is proven to be one of the most healing, restorative, and rejuvenating systems in the world. Food is our medicine, and we are what we digest.

*Radiant Beauty Experience - Eight 75 min sessions
Transform the way you experience yourself from the inside out. Fall deeply in love with your inner and outer beauty. You will be guided in self-care practices, Ayurvedic treatments, meditations, and movement practices that will give you a sense of embodied radiant beauty. This is at the heart of INSOURCERY.



Classes
Healing Angels Class -
4 Mondays - March 1, 8, 15, 22 2021
5-7pm pst
This instructor has no classes scheduled at this time.