Featured Master-Instructor
Alice Rich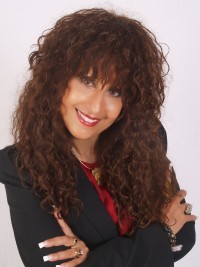 Alice Rich Reiki Center

East Brunswick, NJ, USA
Phone: 732-501-7628
Email: alice@alicerichreikicenter.com
Website: https://alicerichreikicenter.com/
About
My name is Alice. I have been a health and wellness professional for over thirty years.
I first became a Certified Usui Reiki Ryoho Master Practitioner to heal myself, my family and my friends. The positive results that we experienced encouraged me to continue my spiritual mind, body studies and become a Certified Integrated Energy Therapy Master Instructor, as well as Certified in multiple Complementary Modalities including Crystal Healing, Hypnosis, etc...
I was then guided to create the Alice Rich Reiki Center, LLC so that I can share these healing modalities with others. Practicing and teaching these wonderful modalities is indeed an honor for me.
I have a Bachelors of Arts Degree in Business Administration, a Masters Degree in Public Administration and Certified in Multiple Complementary Modalities.
If I am not in session, I am taking courses or teaching courses. I believe in being a continuous learner.
Let me help change and enrich your life.
Services
Integrated Energy Therapy® (IET) , Reiki, Hypnosis, Past Life Healing, Tarot Card Readings, Angel Therapy®, Crystal Healing, DoTERRA Essential Oils, Archangel Life Coaching, Assertiveness Coaching and Fairyology.

I teach all Integrated Energy Therapy® (IET) classes, some upon request such as IET Pets and Steps To Transformation.

I also teach Reiki, Karuna Reiki, and Crystal Healing.
Classes
All Classes include manuals and certificates.
Discount for taking all three courses Basic, Intermediate and Advanced IET.
Healing Angels Course Includes Healing Angels book and Cards.
Unified Course includes Healing Angels Book and Cards.



Date/Time

Class

Location

Fee

Contact

October 21, 2023
10:00 AM - 6:00 PM (EST)

Basic
Entire Class

East Brunswick
NJ
USA

$205

October 22, 2023
10:00 AM - 6:00 PM (EST)

Intermediate
Entire Class

East Brunswick
NJ
USA

$230

October 28, 2023
10:00 AM - 6:00 PM (EST)

Advanced
Entire Class

East Brunswick
NJ
USA

$230

January 13, 2024
10:00 AM - 6:00 AM (EST)

Basic
Entire Class

East Brunswick
NJ
USA

$205

January 14, 2024
10:00 AM - 6:00 PM (EST)

Intermediate
Entire Class

East Brunswick
NJ
USA

$230

January 20, 2024
10:00 AM - 6:00 PM (EST)

Advanced
Entire Class

East Brunswick
NJ
USA

$230

March 16, 2024
10:00 AM - 6:00 PM (EST)

Basic
Entire Class

East Brunswick
NJ
USA

$205

March 17, 2024
10:00 AM - 6:00 PM (EST)

Intermediate
Entire Class

East Brunswick
NJ
USA

$230

March 23, 2024
10:00 AM - 6:00 PM

Advanced
Entire Class

East Brunswick
NJ
USA

$230

May 18, 2024
10:00 AM - 6:00 PM (EST)

Basic
Entire Class

East Brunswick
NJ
USA

$205

May 19, 2024
10:00 AM - 6:00 PM (EST)

Intermediate
Entire Class

East Brunswick
NJ
USA

$230

May 25, 2024
10:00 AM - 6:00 PM (EST)

Advanced
Entire Class

East Brunswick
NJ
USA

$230

August 17, 2024
10:00 AM - 6:00 PM (EST)

Basic
Entire Class

East Brunswick
NJ
USA

$205

August 18, 2024
10:00 AM - 6:00 PM (EST)

Intermediate
Entire Class

East Brunswick
NJ
USA

$205

August 24, 2024
10:00 AM - 6:00 PM (EST)

Advanced
Entire Class

East Brunswick
NJ
USA

$230

October 19, 2024
10:00 AM - 6:00 PM (EST)

Basic
Entire Class

East Brunswick
NJ
USA

$205

October 20, 2024
10:00 AM - 6:00 PM (EST)

Intermediate
Entire Class

East Brunswick
NJ
USA

$230

October 26, 2024
10:00 AM - 6:00 PM (EST)

Advanced
Entire Class

East Brunswick
NJ
USA

$230