Featured Master-Instructor
Andrea Rozsas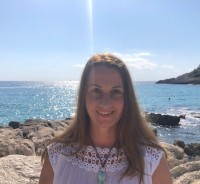 Gyor, Gyor-Moson-Sopron, Hungary
Phone: +36707705588
Email: andrea@lelekzethaz.hu
Website: https://integraltenergia.hu/index.php?oldal=fooldal
Facebook: https://www.facebook.com/groups/563056043799387/permalink/566522703452721/
About
Andrea is an Integrated Energy Therapy® Master-Instructor Trainer, Ascension Guide, Spiritual Self-awareness Trainer, Feminine Power™ Transformational Facilitator and Leader, Angel Diamond® Therapist, qualified Sound Therapy Master.
She met IET in 2012, received her IET® Master-Instructor Level attunment in 2014 in the Netherlands and her IET Trainer attunment from Stevan Thayer in 2017, in Kingston,NY, USA. Andrea has been honored by The Center of Being Inc. in 2014/2015/2016 as one of the TOP Integrated Energy Therapy® Instructors of the year.
She became acquainted with ancient traditions (Hermetics, Tarot, Kabbalah, Astrology), integrated alternative psychology, religion psychology and learned from international masters (US, Indian, Belgian, Hungarian).
Andrea is the creator and leader of the SoulBreath (LÉLEKZET®) Ascension Program, ORganised LOvesending meditation, SoulBreath (LÉLEKZET®) 88 Program (2015) and the author of the books "Roses of Ascension" and "Your Ascension".
In 2007, She received a sacred vision, a message from the Higher Realms that the Ascension can be realized. She works towards the Ascension through the teachings of spiritual self-awareness, the development of the inner senses, and the growth of consciousness. Andrea not only passes on information through her courses, lectures, and books but provides tools for Ascension to help you raise up your life. She has held several hundred courses, workshops, group events, sessions with several thousands of participants.
Andrea is married and has two children.
Services
In English: https://rosesofascension.com

in Hungarian: https://integraltenergia.hu/index.php?oldal=fooldal
Classes
IET classes: Basic, Intermediate, Advanced, Master-Instructor, The Healing Angels of the Energy Field, Steps to Transformation, IET for Pets, How to Teach.
Date/Time

Class

Location

Fee

Contact

January 14, 2023
10:00 AM - 6:00 PM (UTC+2)

Advanced
Entire Class

Budapest
Pest
Hungary

HUF50000

March 25, 2023
9:30 AM - 6:00 PM (UTC+2)

Master-Instructor
Part 1

Budapest
Pest
Hungary

HUF240000

March 26, 2023
9:30 AM - 6:00 PM (UTC+2)

Master-Instructor
Part 2

Budapest
Pest
Hungary

--