Location: Tramore, Co. Waterford
Tramore
Croí na Féile, 12 Beachside Apt., Strand Road
Tramore
Waterford, Co. Waterford, Ireland
+353 86 8347729
Class Description
In the Basic Level IET training, you will receive a manual from the Center of Being Inc., you will be attuned to the Angelic Violet Ray Basic Level, you will learn the Integration Points and to release any suppressed emotions from the cellular memory that may be present from early childhood and past lives. You will receive a certificate at the end of the day which qualifies you to be an IET(R) Practitioner!
Date: June 17, 2023
Time: 9:30am - 5:30pm
Instructor: Gretta Murphy
Location Description: Strand Road, Tramore. X91 RK83
Student Price: 175
Deposit: €70
Reviewers Price: €100
Reviewers Deposit: 100
Lunch Description: There are various cafes and restaurants situated within walking distanced. Some students like to bring lunch to have on the beach or in their car.
Maximum Number of Students: 6
Maximum Number of Reviewers: 2
Notes: This Basic Level will be taught on Saturday 17th June.
Contact Details
Phone:
+353 86 8347729
Email:
alchemygretta@gmail.com
Website:
http://www.alchemygretta.com
---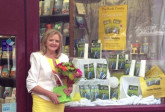 About Gretta Murphy
I trained in the IET(R) Master-Instructor level with Stevan Thayer, Founder of IET(R) in 1999. I have since taught IET throughout Ireland, Europe and Australia. Even though I have also trained in Ki Massage, Bio Energy, Reiki, Reflexology and more, IET(R) is what works miracles in my life and my work. www.alchemygretta.com