Location: Tramore, Co. Waterford
Croi na Feile
12 Beachside Apt., Strand Road,
Strand Road, Tramore,
Waterford, Co. Waterford, Ireland
+353868347729
Class Description
In the Intermediate Level training you will receive an Intermediate Level Manual by the Center of Being Inc. ,an Attunement to the Angelic Violet Ray, learn the Pull Out and Release technique, Learn to give a full IET Intermediate levels treatment and receive a Certificate at the end of the day. You will give and receive a full IET Intermediate Level treatment.
Date: April 16,2023
Time: 9:30am - 5:30pm
Instructor: Gretta Murphy
Location Description: Croí na Féile is located on the Strand Road, Tramore. It has an idyllic view of the sea and coastline. X91RK83
Student Price: 180
Deposit: €70
Reviewers Price: €100
Reviewers Deposit: €70
Lunch Description: Lunch is available in a variety of local Restaurants, within walking distance. You may prefer to bring your lunch and have it on the beach!
Maximum Number of Students: 6
Maximum Number of Reviewers: 2

Contact Details
Phone:
+353 86 89347729
Email:
murphygretta@gmail.com
Website:
http://www.alchemygretta.com
---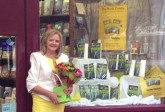 About Gretta Murphy
Gretta trained in the IET Master-Instructor level with the Founder, Stevan Thayer, in Woodstock, N.Y. in 1999. She then taught IET(R), as requested, throughout Ireland, Europe and from East to West Australia. She also teaches the IET Master-Instructor level in Ireland and Australia.