Class Name: Master-Instructor
Location: Pathway Of Joy studio in Southern Maine USA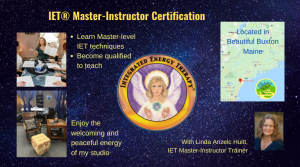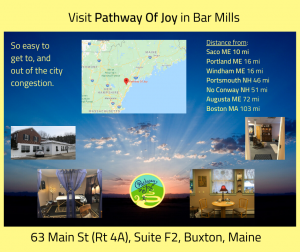 Pathway Of Joy
63 Main Street
Buxton, ME, USA
207-329-7192
Class Description
Gain MASTER level IET skills AND become certified to TEACH!

Whether your desire is to teach IET®, to connect with higher level energies in supporting your clients, or to find greater support for yourself on your own journey, this training is for you!

* Connect with the angels' grand vision for you – something we call your "reach". The IET Master-Instructor attunement and techniques help to open your channels of manifestation for your reach.
* Learn to use sacred geometry to harness the IET energy, and techniques empowered by the symbols.
* Become qualified to teach IET:
-- Learn how to give Basic, Intermediate, and Advanced level IET attunements.
-- Receive all you need to support you in teaching, including manuals, agendas, guidelines and more.
-- This certifies you to teach the Basic, Intermediate, Advanced, Pets, Kids, and Healing Angels IET classes, along with several other IET-based workshops.
* Learn "business basics" of advertising and running your IET sessions/classes, including understanding and clearing blockages to your success.

PREREQUISITE: IET Advanced Certification

FEE OPTIONS: (Pay a $240 deposit. Balance is due the 1st day of class.)
* STANDARD Rate: $745
* EARLY BIRD Rate: $695 (Register at least 30 days in advance of class)

* REVIEWER-ONLY Rate: $225 ($210 early bird)
-- Participate in training and be re-attuned if you are already trained / certified as an IET Master-Instructor.
-- Contact us to enroll as a Rev...
Date: November 5 & 6, 2022
Time: 9:30-6:00 both days
Instructor: Linda Anzelc Huitt
Location Description: The Pathway Of Joy studio in Buxton Maine is located about a half-hour from Portland / Windham, 20 minutes from Gorham / Saco, 1 hour from NH (Portsmouth / Conway). * It is an easy access 1st floor studio (no stairs) * Plenty of free parking * Secure building * Beverages and snacks are provided *Lunch is provided
Student Price: $745
Student Early Bird Price: $695 If Registered By: 10/06/2022
Deposit: $240
Reviewers Price: $225
Reviewers Early Bird Price: $210 If Registered By: 10/06/2022
Reviewers Deposit: $210
Lunch Description: Lunch will be provided, and is typically a choice of soup plus salad, with protein options on the side, and fresh fruit available. I will contact students to ask about any dietary limitations.
Maximum Number of Students: 8
Maximum Number of Reviewers: 4
Notes: The maximum of 8 is TOTAL (first time students plus reviewers). [[If you wish to enroll as a reviewer, do NOT use the link below; contact me using the email or phone number provided here.]]
Contact Details
Phone:
207-329-7192
Email:
PathwayOfJoy1111@gmail.com
Website:
https://www.pathwayofjoy.com/service-page/iet-master-instructor-cert-2-day-event
---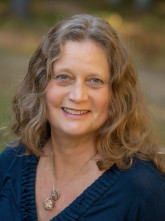 About Linda Huitt
>>Linda's mission is to assist her clients in finding greater joy in life, while restoring their personal empowerment and accountability. She does this with private energy sessions for people and pets as well as public and private training events, and also life / empowerment coaching, through her metaphysical healing practice, Pathway Of Joy. She has clients across the US, Canada and Central America. >>Linda has a unique combination of experiences, giving her perspective to relate to clients across a broad spectrum. She grew up in a large, loving family. The first 30 years of her adult life were spent in a high-tech corporate management career. In 2012, being drawn to a more spiritual path, she began actively studying and practicing holistic and metaphysical techniques, and transitioned full-time to her healing vocation in 2014. She continues to add compassion-based modalities and events to support her clients. >>Linda is certified in and practices several energy healing modalities: * Integrated Energy Therapy® (IET Master-Instructor Trainer) * Kundalini Reiki (Master/Teacher) * Akashic Records readings (Advanced Certified Practitioner of the Pathway Prayer process) * Melchizedek Method healing *ThetaHealing® * Usui Reiki * Animal Reiki >>Examples of training offerings: * IET certification * Kundalini Reiki certification * Vision Board * Healing Angels * Transformation modules * Healing Circles & Energy Shares * Spirit Camp