Location: River Winds Farm & Estate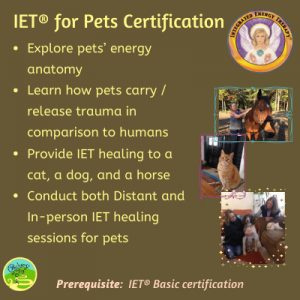 (We will meet upstairs in the arena building)
121 Louden Road
Saco, ME, USA
207.329.7192
Class Description
Learn how to provide IET energy healing to Pets!

This class is for anyone who loves animals. It focuses on applying the beautiful Integrated Energy Therapy® techniques to clear trauma from cats, dogs, and horses. These techniques can apply to other animals as well.

* Explore pets' energy anatomy
* Learn how pets carry / release trauma in comparison to humans
* Provide IET healing to a cat, a dog, and a horse
* Conduct both Distant and In-person IET healing sessions for pets
* Limited to 2 students... if the class sells out contact Linda to discuss other options

PREREQUISITE: IET® Basic Certification
(See our Calendar for upcoming IET Basic classes: https://bit.ly/3ocG0dx)
Date: May 23, 2021
Time: 9:00am-5:00pm
Instructor: Linda Anzelc Huitt
Location Description: River Winds is a beautiful venue. They have a large indoor arena, along with several outdoor paddocks for work with the horses. The upstairs viewing area (climate controlled) makes a very comfortable location for our bookwork, along with our practice with cats (distant) and dogs (will be brought in).
Student Price: $160
Student Early Bird Price: $140 If Registered By: 05/09/2021
Deposit: $80
Reviewers Price: $80
Reviewers Deposit: $80
Lunch Description: * Please bring your own lunch. We have a refrigerator in our work area. * Light snacks and bottled water will be provided by Linda.
Maximum Number of Students: 2
Maximum Number of Reviewers: 1
Notes: * The "Reviewer" rate is only for students who have previously completed IET for Pets training with a certified IET Master-Instructor. Please bring your own book, and your signed certificate. * This class will also be offered on Wednesday, September 15, at the same location.
Contact Details
Phone:
207.329.7192
Email:
PathwayOfJoy1111@gmail.com
Website:
https://www.pathwayofjoy.com/bookings-checkout/iet-for-pets-in-saco-maine
---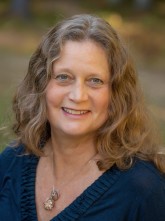 About Linda Huitt
Linda is an IET Master-Instructor Trainer. She loves to teach, and offers all levels of IET certification training, along with the Transformation Steps, Healing Angels, and Sacred Relationships workshops, and runs monthly Energy Shares and Healing Circles. Her studio, Pathway Of Joy, is located in Buxton Maine. She conducts private sessions for people and for pets, both in her studio and online via Zoom, in IET, Reiki, Melchizedek Method, ThetaHealing, and Akashic Record readings. She also offers Kundalini Reiki certification training. Learn more at www.PathwayOfJoy.com.