Location: Buxton, Maine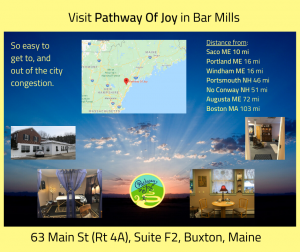 Pathway Of Joy
63 Main Street (Rt 4A), Suite F2
Buxton, ME, USA
207.329.7192
Class Description
Empower yourself to conduct IET Healing sessions for yourself & others!

This class provides you with everything you need to conduct a powerful Integrated Energy Therapy® session, clearing energetic trauma and providing beautiful empowerment energy. You will:
*Learn IET® terminology, energy anatomy and Basic level techniques
*Become able to conduct both in-person and distant sessions
*Receive a Basic level attunement
*Give and receive a full healing session
*Receive an illustrated student guide book
*Become a registered IET practitioner

Learn more at https://www.pathwayofjoy.com/basic-iet

FEE OPTIONS:
$220, standard fee
$205, early bird fee (register at least 7 days in advance)

Attend as a reviewer if you are already certified for just $80 (Please bring your own workbook. No certificate provided.) CONTACT LINDA to enroll as a reviewer, PathwayOfJoy1111@gmail.com.
Date: June 13, 2020
Time: 10:00am-6:00pm
Instructor: Linda Anzelc Huitt
Location Description: We are located in a beautiful studio in Buxton Maine, in the village of Bar Mills. Less than 30 minutes from Portland, and less than an hour from the NH border. Park in the lower lot (between our building and the Post Office) and find our logo on our entrance door. We are a secure building, and also require masks covering nose and mouth, per current CDC pandemic guidelines.
Student Price: $220
Student Early Bird Price: $205 If Registered By: 07/06/2020
Deposit: $100
Reviewers Price: $80
Reviewers Deposit: $80
Lunch Description: Bring your own lunch or purchase locally. We a have refrigerator, stove, and microwave. Snacks, water, and hot beverages are provided throughout the day.
Maximum Number of Students: 4
Maximum Number of Reviewers: 1
Notes: * Please bring your own mask. * You will be asked to complete an online wellness survey before arriving. * Class is open to students who have been confined to ME/NH/VT for the 14 days prior to class, OR who have tested negative for Covid19 less than 72 hours before class.
Contact Details
Phone:
207.329.7192
Email:
pathwayofjoy1111@gmail.com
Website:
http://www.pathwayofjoy.com
---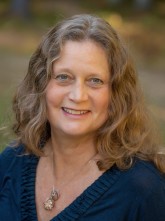 About Linda Huitt
I have been actively practicing and teaching IET since 2012, and enjoy teaching all levels along with IET-based enrichment workshops. I offer many workshops online, in addition to the in-person training. In addition to IET, I practice Reiki, ThetaHealing, and read Akashic Records, and also offer Kundalini Reiki certification training. This year, I formally opened up a life coaching / empowerment coaching practice - learn more at www.Clarity-Coaching-Solutions.com regarding how I can help you bring your life vision into focus and into reality. My husband Mike and I live locally, and are both Maine natives. We have four children, six grandchildren, and two feline babies.