Location: Tramore
Croi na Feile
12 Beachside Apt., Strand Road,
Strand Road, Tramore,
Waterford, Co. Waterford, Ireland
+353 86 8347729
Class Description
Intermediate Level Training is a one-day class that provides you with:
An attunement to the IET energy ray that expands, realigns & restructures
The 3rd & 4th DNA pairs.
Learning to clear karmic energy imprints and repetitious life patterns.
Methods to esoterically dowse the human energy field.
Empowers you to pull physical, emotional, mental & karmic energy imprints
Out of the human energy field.

Date: September 20, 2020
Time: 9:30am to 5:00pm
Instructor: Gretta Murphy
Location Description: Croí na Féile, is on the Strand Road, Tramore. There are idyllic views from the apt. and the balcony of the sea and coastline. Cafes and restaurants overlooking the sea within walking distance.
Student Price: €180
Deposit: €70
Reviewers Price: €100
Reviewers Deposit: €70
Lunch Description: A light lunch is provided and is included in the fee.
Maximum Number of Students: 8
Maximum Number of Reviewers: 2
Notes: Please bring shoes/sandals for indoors.
Contact Details
Phone:
+353 86 8347729
Email:
murphygretta@gmail.com
Website:
http://www.alchemygretta.com
---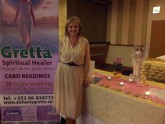 About Gretta Murphy
Gretta, now teaching IET 21 years, is the longest serving IET Master-Instructor, having trained with Stevan Thayer, Founder, in 1999. She was instrumental In introducing IET to Ireland, Europe and Australia, East & West. Now a Trainer, Gretta also teaches the Master-Instructor level. She is qualified In many therapies e.g. EFT, Magnified Healing®, Reflexology, Access Bars. It is IET, however, that works wonders in Gretta's practice. Gretta's Autobiography, "I Chose My Life!" was published in 2014. She currently teaches IET classes in Doulgas, Cork & Tramore, Co. Waterford.