Location: Douglas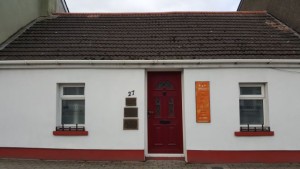 Sirona Clinic
27 Douglas Road
Douglas West
Cork, Co. Kerry, Ireland
+353 86 8347729
Class Description
The Intermediate level training is a one day class that provides you with:
An attunement to the Intermediate IET energy ray that expands, realigns & restructures 3rd d& 4th DNA pairs.
Learning to clear karmic energy imprints & repetitious life patterns.
Methods to dowse the human energy field.
Empowers you to pull physical, emotional, mental and karmic energy imprints out of the human energy field.

Date: February 9, 2020
Time: 9:30am to 5:00pm
Instructor: Gretta Murphy
Location Description: Sirona Clinic is located at 27 Douglas West Village, about half way between the former Tescos Shopping centre and the Douglas National School.
Student Price: €180
Deposit: €70
Reviewers Price: €100
Reviewers Deposit: €70
Lunch Description: Lunch will be at O'Driscoll's Bar & Restaurant - caters for vegan and vegetarial diets as well as a carvery. It is a few minutes walk from Sirona Clinicl
Maximum Number of Students: 8
Maximum Number of Reviewers: 2
Notes: Please note the above picture is not the Location photo of Sirona Clinic.
Contact Details
Phone:
+353868347729
Email:
alchemygretta@gmail.com
Website:
http://www.alchemygretta.com
---
About Gretta Murphy
Gretta has been practicing and teaching IET since January 2000. She taught throughout Ireland, Europe and from West to East Australia. Gretta is also qualified in Reflexology, Bio energy, EFT, Magnified Healing & other therapies. It is IET, however, that works best in Gretta's practice. She is author of her autobiography "I Chose My Life!". Gretta became an IET Master-Instructor Trainer in 2015.