Class Name: IET Angelic Gathering
Location: Saugerties, NY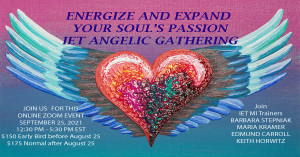 The Center of Being
Saugerties , NY, USA
(845) 657-7220
Class Description
Energize your Energy Field — Group HeartBeams, WAG 5 minute empowerment, Re-activate of the Step to Transformation processes
Freedom Process — Learn ways we give up our freedom, Cut energy cords, Embrace a be-do-gratitude way of life.
Compassion Process — Activate your heart seeds, Experience an angel wash, Activate the right brain, Learn to move inter-dimensionally from the "Dimension of Fear" into the "Dimension of Love".
Experience the all NEW Soulstar Passion Process created by Keith Horwitz — Differentiate between an egoic want and your Soul's emergent desires and passions, Experience a heartwave between your Soulstar, heart & earthstar to amplify the awareness of your passion, Embrace the wisdom and energy to accept your Soul's desires into your experience with joy.
Date: September 25
Time: 12:30 PM to 5:30 PM EST
Instructor: Barbara, Edmund, Maria and Keith
Location Description: The Angelic Gathering is a virtual gathering held on Zoom with IET Trainers Barbara Stepniak, Edmund Carroll, Maria Kramer, and Keith Horwitz.
Student Price: $175
Student Early Bird Price: $150 If Registered By: 08/25/2021

Contact Details
Phone:
(845) 657-7220
Email:
barbarastepniak@learniet.com
Website:
https://www.learniet.com/iet-angelic-gathering/
---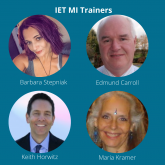 About Barbara Stepniak
Barbara Stepniak IET MI Trainer and Managing Director of the Center of Being. Edmund Carroll IET MI Trainer Maria Kramer IET MI Trainer Keith Horwitz IET MI Trainer