Class Name: Master-Instructor
Location: Pathway Of Joy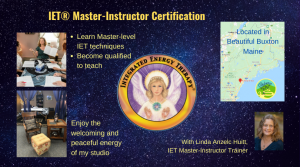 Leavitts Mill building
63 Main Street
Buxton, ME, USA
207.329.7192
Class Description
Whether your desire is to teach Integrated Energy Therapy®, to connect with higher energies in supporting your clients, or to find greater support for yourself on your own journey, this training is for you!

MASTER-INSTRUCTOR MEANING:
"Master" refers to the mastery of the IET energy that you will receive in this class which brings an even stronger level of IET energy through to you during self-treatment and client sessions.
"Instructor" refers to your ability to teach IET classes, and attune others to the IET energy.

* IDENTIFY AND CLAIM YOUR REACH... the angels' grander vision for you
* LEARN IET SACRED GEOMETRY... to harness the IET rays and techniques empowered by the symbols
* BECOME QUALIFIED TO TEACH IET:
... Giving Basic, Intermediate, and Advanced IET attunements
... Receive all you need to support you in teaching (manuals, agendas, guidelines and more)
... Certification to teach the Basic, Intermediate, Advanced, Pets, Kids, and Healing Angels IET classes, along with several other IET-based workshops
* MASTER-INSTRUCTOR ATTUNEMENT... further opening your energy field to the power of IET
* PRACTICAL SPIRITUALITY... "business basics" of advertising and running your IET sessions/classes, including understanding and clearing blockages to your success.

Pre-requisite: Advanced IET Certification
Date: June 5 & 6, 2021
Time: 9:30am-6:00pm
Instructor: Linda Anzelc Huitt
Location Description: Our location is convenient, yet out of the way, in Buxton Maine. Plenty of free parking, and easy access to our 1st floor studio. Class size is limited to 4 students ensuring everyone has room to be comfortable, and safely distanced.
Student Price: $695
Student Early Bird Price: $645 If Registered By: 05/05/2021
Deposit: $220
Reviewers Price: $210
Reviewers Early Bird Price: $195 If Registered By: 05/05/2021
Reviewers Deposit: $195
Lunch Description: Lunch will be provided each day, along with snacks, hot beverages, and water. Linda will check with students regarding dietary restrictions after they register.
Maximum Number of Students: 4
Maximum Number of Reviewers: 1
Notes: We follow Maine CDC requirements for wellness. Since these requirements are subject to change, please check our website for current information, or contact Linda to inquire at PathwayOfJoy1111@gmail.com.
Contact Details
Phone:
207.329.7192
Email:
PathwayOfJoy1111@gmail.com
Website:
https://www.pathwayofjoy.com/bookings-checkout/iet-master-instructor-cert-jun-5-6-2
---
About Linda Huitt
In addition to being an IET Master-Instructor Trainer, Linda is a Kundalini Reiki Master-Teacher, and also practices Usui Reiki, ThetaHealing, Melchizedek Method, and reads the Akashic Records. Check out her website (https://www.PathwayOfJoy.com) to schedule private sessions in each of these modalities, including energy sessions and readings for your pet. She offers many enrichment workshops - both those that are based in IET energy and other workshops. Linda is also an Empowerment Coach, offered through her coaching practice, Clarity Coaching Solutions (https://www.Clarity-Coaching-Solutions.com). She blends her business and spiritual experiences to give her coaching clients well rounded and unique support.