Class Name: Master-Instructor
Location: Buxton, ME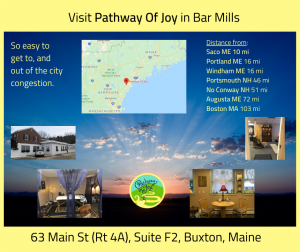 Pathway Of Joy
63 Main Street (Rt 4A)
Suite F2
Buxton, ME, USA
207-329-7192
Class Description
Whether your desire is to teach IET®, to connect with higher energies in supporting your clients, or to find greater support for yourself on your own journey, this training is for you!

MASTER-INSTRUCTOR MEANING:
MASTER: The mastery of the IET energy that you will receive, bringing an even stronger level of IET energy to your sessions.
INSTRUCTOR: Your ability to teach IET classes, and attune others to IET energy.

* CLAIM YOUR REACH: Beyond your personal vision is the angels' grander vision for you – your "reach". You will identify and claim your reach. Then the attunement and techniques help to open your channels of manifestation for your reach.
* IET SACRED GEOMETRY: You will learn to use sacred geometry to harness the IET rays, and learn techniques empowered by the symbols.
* BECOME QUALIFIED TO TEACH IET:
- Learn how to give Basic, Intermediate, and Advanced IET attunements.
- Receive all you need to support you in teaching, including manuals, agendas and more.
- Become certified to teach Basic, Intermediate, Advanced, Pets, Kids, and Healing Angels IET classes, plus several other IET-based workshops.
* MASTER-INSTRUCTOR ATTUNEMENT: Your attunement will further open your energy field to the power of IET. It works with the 6th pair of your 12-Strand DNA, turning on your ability to activate the DNA of others.
* PRACTICAL SPIRITUALITY: Learn business basics of running your IET practice, including understanding and clearing blocks to your success.
Date: September 19 & 20, 2020
Time: 9:30am-6:00pm both days
Instructor: Linda Anzelc Huitt
Location Description: We are located on the ground floor of the Leavitt's Mill building on Main Street (Rt 4A) Buxton, in the village of Bar Mills. Plenty of free parking (park in the lower lot to the right of the building as you face it). Our building is secure... just ring the doorbell for admission.
Student Price: $695
Student Early Bird Price: $645 If Registered By: 08/19/2020
Deposit: $230
Reviewers Price: $210
Reviewers Early Bird Price: $195 If Registered By: 08/19/2020
Reviewers Deposit: $195
Lunch Description: Snacks, filtered water, and hot beverages are provided throughout the day. A vegetarian lunch will be provided with protein options on the side.
Maximum Number of Students: 6
Maximum Number of Reviewers: 2
Notes: We are following State CDC guidelines. You will be asked to: * complete a Wellness Survey before arriving * wear a mask to enter the building, and whenever 6' distancing is precluded. (We can remove masks during bookwork / discussion.)
Contact Details
Phone:
2073297192
Email:
PathwayOfJoy1111@gmail.com
Website:
https://www.pathwayofjoy.com/bookings-checkout/iet-master-instructor-cert-sep-19-20
---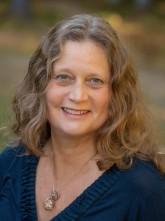 About Linda Huitt
Linda is an IET Master-Instructor Trainer. She has been actively practicing and teaching IET since 2012, and offers all workshops that are part of the IET system. As part of her healing and teaching practice (Pathway Of Joy) in addition to IET, Linda also practices Kundalini Reiki (Master-Teacher), Usui Reiki, Akashic Records readings, and Theta Healing. She also offers Empowerment Coaching through her Life Coaching practice (learn more about that at www.Clarity-Coaching-Solutions.com). Her 30+ years of technical and corporate experience has prepared her to offer you a unique coaching experience. Linda is a lifelong Maine resident. She lives in Buxton with her husband and feline babies.